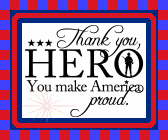 We Love Our Hero's Blog Hop 5/21
Today is Armed Forces Day! This is a hop to support and bring awareness to the works of Operation Write Home . You should have arrived from Jenny at www.papercutcreations.blogspot.com. If not please hop back to Misty's, so you won't miss anything this wonderful group has to offer. In addition to card makers making cards for service persons to send home to their families, OWH has what they call 'Hero Mail'. These cards can be any size; not just the usual required A2. They also include a personal note to 'Any Hero'. We call them Hero's, because OWH covers all branches of service. These are passed out to deployed hero's, who might not get much mail, or just passed around to enjoy news from home. Here is more info about this awesome program.
http://operationwritehome.org/anyhero.html
Thank you to All of our Heros, past , present and those who serve on the Homefront as well!
Since July 4th is just around the corner and I was loving the red, white and blue, I got a little carried away and made three cards!!
This card base is just made from kraft cardstock. I found these beautiful patriotic flowers at Michaels and they were on sale this past week!
For this card, I embossed the white background with my cuttlebug and used gold star paper from K and Company.
This card was kinda the same as the 2nd card, but then I found these awesome felt stars at Michaels to layer together. And guess what, they were on sale too. I must have spent $40 on flowers and stuff, but it was all 40% off so it's OK! LOL
Hope you like my creations!

Your next stop will be Jenny B at www.craftydivalounge.blogspot.com

Oh yeah, leave a comment below with a way to contact you for some blog candy from my stash.


Here is the complete hop list.

1. Misty www.deliteful-gifts.blogspot.com

2. Tanya http://scrappinkymomma.blogspot.com

3. Kristal http://www.gettingcricky.com/

4. Sally http://sallysbitz.blogspot.com/

5. Amy http://www.lovetocrop.com/

6. Anita http://www.anitaandbugs.blogspot.com/

7. Kathie http://kathleessnippitsncricuts.blogspot.com/

8. Rexann http://ibecircled.blogspot.com/

9. Vicki http://melovebonoandscrapbooking.blogspot.com/

10. Jenny http://www.papercutcreations.blogspot.com/

11. Darlene www.talesoftayandbay.blogspot.com

12. JennyB http://craftydivalounge.blogspot.com/

13. Linda http://lindascreativity.blogspot.com/

14. Patti http://www.pattilynncreations.blogspot.com/

15. Jazzy http://www.JazzysCards.Blogspot.com/

16. Momo http://madebymomo.blogspot.com/

17. Paula http://morethanfavors.blogspot.com/

18. Melanie http://inlovewithabug.blogspot.com/

19. Jan http://jans-gonestampin.blogspot.com/

20. Gina http://californiascrappin-gcinderella21.blogspot.com/