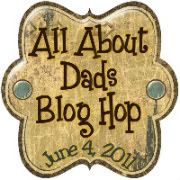 Welcome to the All About Dads Blog Hop! We have gathered a talented group of crafters to share their projects with you for Father's Day. I hope that we are able to provide you with lots of great ideas for all the special men in your life.
If you just came from Amy's at www.amychomas.blogspot.com, then you are in the right place. If you stumbled upon my blog and want to hop along, you can do so by starting at Jen's Blog at www.memorieswithjen.blogspot.com.
I have always struggled with making masculine cards. My cards usually aren't girly either, just somewhere in between at cutesy!
I posted this card for a challenge a few weeks ago, but it would be perfect for Father's Day, just change the sentiment.
This cut is from the Cricut Sampler cartridge and I don't remember where the fish is from. The background paper if from My Mind's Eye Stomp.
I bought the Father's Day seasonal cartridge. The next 3 cards are all from it.
The paper on this card is from K and Company's mat stack.
Hehe. Did your dad have a chair that was 'his' and only his? Mine did and it was an ugly rust orange color. I used the Imagine to print the denim paper from Snapshot texture cartrdige and added a few brads from my stash. The sentiment is from My Pink Stamper's Happiest Moments set.
For my last card I used the Imagine again and printed the floor and basketball from the Snapshot Everyday cartridge. The sentiment is from 40:31 Creations stamp set that has yet to be released.
Well that's all folks! This is the end of the hop. I hope we have given you lots of awesome ideas to make a special card for the wonderful men in your life.
Remember if want to be eligible to win the Cricut Cartridge A Child's Year you must leave a comment on each stop in the hop. So don't forget to leave a comment below with your email address. Thanks so much!!
Here is a list of the participants in our hop in case you get lost:
Jen R www.memorieswithjen.blogspot.com
Anita www.anitaandbugs.blogspot.com
Amy www.lovetocrop.com
Jackie www.jackrabbitscrappin.blogspot.com
Stasia www.stampzone.blogspot.com
Gina www.californiascrappin-gcinderella21.blogspot.com
Sher www.patternsbysher.blogspot.com
Michelle www.designsoncloud9.blogspot.com
Laura: www.makinprettythings.com
Kari www.purplefuntastickcreations.blogspot.com
Jenn www.jennscrap2.blogspot.com
Samantha www.buglovinchick.blogspot.com
Kathy www.kathyand3kids.blogspot.com
Lori www.scrappinmystressaway.blogspot.com
DD www.craftydeb-ddscrafts.blogspot.com
Rhonda www.craftingwithblue.blogspot.com
Kristal www.gettingcricky.com
Amy www.amychomas.blogspot.com
Darlene www.talesoftayandbay.blogspot.com